Fitness is a big industry in Hawaii. But you are on vacation and maybe want to combine staying fit with some outdoor activities. Hawaii is a wonderful destination for travellers who enjoy movement and exercise. Learn about the top excursions to exercise your body and engage with the island. There are lots of adventures to go on in Hawaii. Get into the water, climb a mountain or a volcano, enjoy waterfalls or amazing views. Hawaii has a lot to offer.
Hiking Diamond Head Crater
If fitness in Hawaii is your idea of a fantastic time, consider hiking at Diamond Head. This O'ahu tour provides a variety of terrain on a beautiful ascent up to dazzling vistas and stunning views. Take a sunrise hike lit by iconic pinks and yellows overlooking the island. You'll get plenty of exercise as you push yourself, while remaining safe along the well kept trail. If you're especially adventurous, consider the self-guided hike.
E-Mountain Bike Adventure through Jurassic Valley
Do you love being immersed in nature while getting a workout? Consider the E-Mountain Bike Adventure through the "Jurassic Valley". You'll pass lush flora and plenty of iconic photo opportunities as you bike through locations where several blockbuster films have been shot. Explore locations of Jumanji 2 with The Rock, Jurassic Park, Jurassic World, Kong Skull Island and TV Show locations from Magnum P.I. or Hawaii Five-0.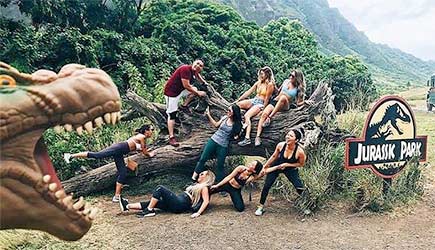 Although e-mountain bikes provide an electronic "push", visitors may still find strenuous exertion on this adventure. This tour is perfect for anyone who is seeking fitness in Hawaii.
Surf Lesson at Waikiki
Let's get wet and wild with this opportunity to catch a wave and ride it to shore! If you've never surfed before, but have always wanted to learn, this lesson will show you how. You'll work up a sweat as you bring your body up on the board, but you'll stay cool as you splash in the waves.
Waikiki is the perfect place to learn to surf. You won't want to miss this opportunity for fitness in Hawaii. If you like to learn how to surf on the famous North Shore of Oahu, check out the North Shore Surf Girls.
Hike an Active Volcano on the Big Island
Fitness in Hawaii is not necessarily about spending time in a gym. You can get a serious workout climbing through lava fields and rainforests through an active volcano! Kilauea offers views of the caldera and this tour finishes off at a black sand beach. These unique sights will engage your senses as you feel the heat from the steaming bluffs while working your legs as you follow the trail.
Snorkeling with Dolphins and Sea Turtles
Getting in the water and swimming together with local sea creatures is one of the best ways to pursue fitness in Hawaii. This catamaran dolphin snorkel tour also provides a relaxing catamaran ride, as well as delightful lunch and beverages. This experience provides fitness in Hawaii for children age five and up – it's the perfect balance between physical movement and scientific exploration.
What about COVID-19?
Safety is our first priority, which is why we offer sanitary wipes to our guests. Outdoor exploration has been shown to be a wonderful way to pursue fitness in Hawaii while also staying safe. Find our more about Covid-19 and other News like Hurricanes in our News Section of our Hawaii YouTube Channel.