Beautiful West Kauai
Most of West Kauai can't be explored by car, only by helicopter or boat due to the famous Waimea Canyon and the breathtaking Na Pali coast. If you are interested in a helicopter flight on Kauai, feel free to check out all the flights offered on Kauai and compare them.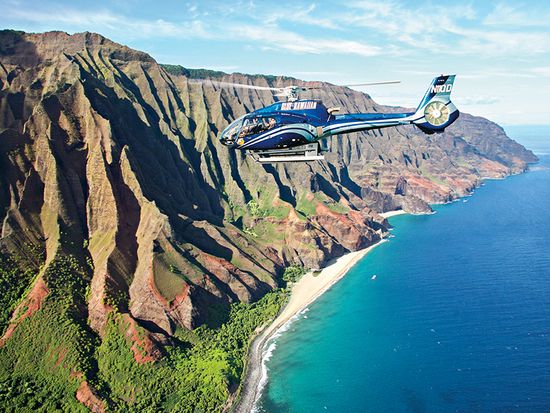 We here at Daniels Hawaii have our favorite Kauai Helicopter flight. Check out the Kauai Helicopter flight with Blue Hawaii. The Kauai Helicopter Eco Adventure with Blue Hawaiian Helicopters. An amazing 55 minute helicopter flight over the island of Kauai. Breathtaking views of Waimea Canyon and lots of waterfalls.
You are NOT on Kauai but want to fly in a helicopter during your Hawaii vacation? Please check out our activity website. Here you can find all Helicopter operators in Hawaii.
Waimea Bay & Waimea Canyon on West Kauai
However, there are lots of great hiking paths. It's about an hour drive from Lihue to get to Waimea Bay, a historic seaport town, where British discoverer Captain James Cook first landed there in 1778 and where the Waimea Canyon starts.
American author Mark Twain described the Waimea Canyon as the "The Grand Canyon of the Pacific", although it is not as big as the Grand Canyon in Arizona, but still as amazing. The Waimea Canyon is 14 miles long, one mile wide and more than 3,600 feet deep.
Along the 40-mile Waimea Canyon Road, it's difficult to find a gasoline station, so you have to make sure you have enough gasoline in your car.
The Waimea Canyon Drive leads you to famous lookout points like the Kalalau lookout, a 40 min drive, which is one of the most-photographed valleys of Hawaii overlooking the Na Pali Coast. It is also amazing, that this area was still inhabited until 1919.
The road ends at the Puu O Kila Lookout and Kokee State Park, where you can also find numerous trails to hike. The park is open daily during daylight hours with restrooms, camping and picnic areas. But don't forget good hiking shoes!
Explore ALL of Kauai in just ONE day
If you would like to see most of the beautiful highlights on Kauai in just ONE day, we are happy to take you on a Kauai ground tour + helicopter flight. Daniels Hawaii offers a combination of land and air tour. We start your tour in the morning, where we pick you up at your hotel. Lean back and enjoy the ride in a luxury vehicle. Your Kauai private tour takes you to some of the most popular spots on Kauai. After lunch you will be dropped off at the Helipad for your 55 minute helicopter flight all over the beautiful island of Kauai. See Waimea Canyon, waterfalls, and breathtaking Napali coast, all in just ONE day!
Hiking the Napali Coast on West Kauai
There are two mayor hiking trails: the 2.5 miles long Kukui trail and the Kalalau Trail, stretching eleven miles along the Na Pali coastline
The Napali Coast is a 16 miles (26 km) long coastline with 4,000 feet (1,200 m) tall cliffs, accented with lush green valleys, cascading waterfalls and sea caves. This place is not accessible by car. You can only hike there, take an helicopter or boat tour to view this breathtaking natural wonder. Boat tours depart from Port Allen harbor on the southern coast of Kauai near Hanapepe Bay. Check out all the Napali Coast Adventures on our website. Sunset Cruises to Napali Coast, Helicopter Flights along the Napali Coast, Napali Coast Snorkel Adventures.
Hanapepe Bay
There are not as many high-class hotels or oceanfront restaurants in this area. However, we would recommend the Tropical Oceanfront Hotel, located in Waimea, offering cottages along the ocean.
Further down the road towards Kekaha, you can also find a nice restaurant, the PMRF. There, you can relax at the open deck with breathtaking sunsets of the Pacific Ocean.
At the end of the road in Kekaha you will find Polihale State Park. An unpaved road will reward you in the end with a white sandy beach next to the Na Pali coast.
Picnicking and tent camping on wild coastline with large sand beach backed by dunes. Scenic sunsets and views of the sea cliffs of Na Pali Coast. Has toilets and showers. But bring your own water and food.
For more information contact danielshawaii.com