Beautiful East Kauai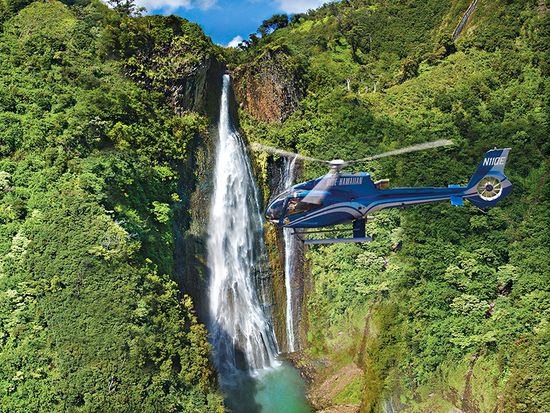 The city of Lihue, located on the island's east coast, may be the most travelled town on Kauai since it is the center of Kauai's main airport and Nawilliwilli Harbor, the island's only cruise ship port. Kauai is Hawaii's fourth largest island, called the "Garden Island" and this is because of its beauty. Some parts of Kauai can even only be seen by air since there are no roads leading to these picturesque places.
Therefore, you definitely need to take a helicopter ride on Kauai with either Blue Hawaiian, Sunshine, Island or Safari Helicopters but make sure, you book these flights ahead of time because they sell out very fast.
Lihue has a very nice beach, called Kalapaki Beach, which is partially protected from the open ocean by a large break wall and great for swimming and surf lessons. Kalapaki Bay also fronts the Kauai Marriott Beach Resort, several oceanfront restaurants like Duke's and JJ's Broiler as well as two small shopping centers, Anchor Cove and Harbor Mall just across the street.
Do you play Golf? Next to Kalapaki Beach is the famous Hokuala Golf Resort with its breathtaking panoramic ocean and mountain views, one of the world's nicest golf courses. Interested in some of the best golf courses in Hawaii? Here is a description including a video of some of the best golf courses in Hawaii.
If you haven't been to a Luau yet, you definitely have to see the Luau Kalamaku in Lihue, including a delicious buffet dinner with graceful Hawaiian hula dancers and traditional fire knife dancing. A great adventure! Looking for Luaus in Hawaii? Check out these Luaus in the beautiful state in Hawaii.
The second largest city of east Kauai is Kapaa, about 6 miles (9.7 km) north of Lihue. Kapaa is an oceanfront town with lots of hotels, condos, restaurants and shops and is also close to several beaches such as Lydgate Beach Park, adjacent to the Wailua River, which is a great family beach for swimming, picnicking and snorkeling with lifeguards, full facilities, picnic areas and a 2.5 mile paved coastal path.
You also need to see the twenty mile long Wailua River, located 15 minutes north of Lihue. The river is fed by Mt. Wai'ale'ale, one of the wettest spots in the world. This scenic river can only be explored by boat, canoe or kayak.
One of the river's most famous attractions is the Fern Grotto, two miles up Wailua River. The grotto is a lava rock cave with lush ferns growing on walls, formed millions years ago. The best way to get to Fern Grotto is to enjoy one of the Wailua River Cruises. Boats departs from the Wailua Marina and the entire tour takes about one hour and 20 minutes. You can also rent a kayak and paddle up the river by yourself.
Waterfalls in East Kauai
The Wailua River also has two gorgeous waterfalls: Wailua Falls and Opaekaa Falls. Wailua Falls is a 173 foot waterfall, easily accessible, located next to a parking lot. In other words, this is one of the few waterfalls, you don't have to hike for miles in order to get close to a waterfall. There are paths to the bottom of the falls, but it can be muddy and slippery. Kauai has some of the biggest waterfalls in the world. Interested in even more waterfalls?
The Daniels Hawaii tour guides would be happy to tell you more about the beautiful waterfalls, hawaiian culture and show you some of the most beautiful spots of the world. Learn the true meaning of ALOHA and experience the REAL Hawaii. For more information contact danielshawaii.com